Efficacy tests are necessary studies for the evaluation and subsequent authorisation of a new biocidal product. We have 10 years of experience in the biocides sector, performing disinfection efficacy studies to evaluate your biocidal products.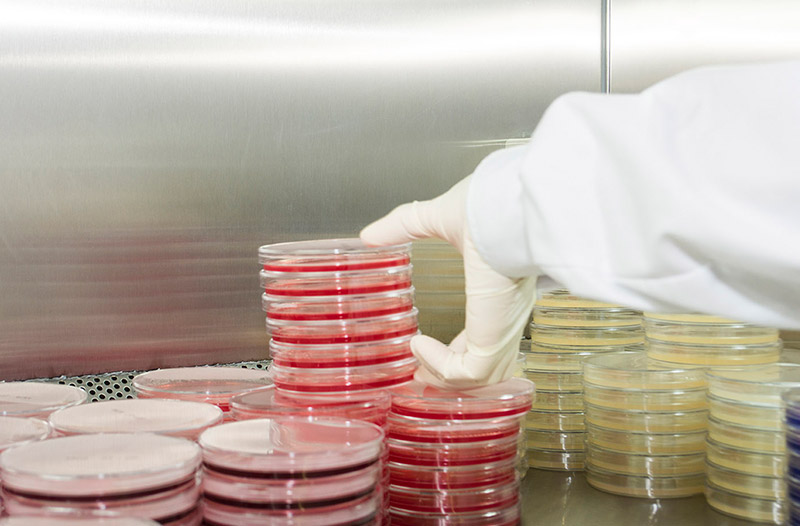 Our testing practices
We apply a variety of European norms and ISO standards designed to evaluate the bactericidal, fungicidal, yeasticidal and virucidal activity of your formulations.
According to Article 19 of the EU Biocides Regulation (BPR), a biocidal product is authorised only if it is sufficiently effective. Disinfectant efficacy tests provide evidence that the product is effective against the claimed micro-organisms or group of micro-organisms.
Several standard protocols have been introduced to date by the European Committee for Standardization (CEN). According to EN 14885, products are divided into three different areas of application:
Medical
Veterinary
Food, industrial, domestic and institutional
Our tests comply with the following standards:
Bactericidal suspension studies: EN 1040, EN 1276, EN 13727, EN 1656
Fungicidal/Yeasticidal suspension studies: EN 1275, EN 1650, EN 13624, EN 1657
Surface-Carrier studies: EN 13697, EN 14561, EN 14562
Hygienic handrub and handwash studies: EN 1499, EN 1500, EN 12791
Sporicidal studies: EN 13704
Virucidal studies: EN 14476
Even if there are no relevant protocols available, we help you design tailored protocols for your product, based on the most relevant standard protocol. This way, we provide adequate justification for the application field and intended use of your product.
The QACS laboratory is:
What we test for
The standard protocols used for Suspension / Surface / Handrub testing are divided into phases and steps that simulate practical conditions.
We conduct quantitative basic suspension tests to evaluate bactericidal, fungicidal or sporicidal activity of substances or products, such as: EN 1040 for bactericidal activity and EN 1275 for fungicidal activity.
We conduct quantitative suspension tests to evaluate the biocidal activity of a product. These tests are carried out under practical conditions of use, usually in the presence of organic load.
Examples include EN 1276 and EN 13727 for bactericidal activity, and EN 1650 and EN13624 for fungicidal activity.
We carry out quantitative laboratory tests that simulate the conditions during practical use. For example when applied to skin, we use the hygienic handwash test (EN 1499) or the hygienic handrub test (EN 1500). When applied to surfaces, we use the EN 13697.
These are field tests conducted under practical conditions. There are no standardized tests available yet.
Our testing methods
Suspension and surface tests are performed at 3 different product concentrations, 1 in the active range and 1 in the non-active range.
Furthermore, we validate the neutralizer used and the testing method followed before each test implementation, as instructed on each EN protocol.
These tests must be performed at conditions simulating practical conditions suitable to the intended use of the products with regard to: micro-organisms, temperature conditions, soiling and contact time.
Test conditions have to be carefully chosen so as to reproduce the practical application.
The experienced QACS personnel can help you follow a tiered approach so as to choose or design and perform the correct efficacy studies that support the desired antimicrobial claim on your label's product.
Have a question? We can help find an answer
Fill in our contact form below to request our price list and find out how our QACS Laboratory team can help you.